Hellcat-Powered Ram Rebel TRX Is Officially Happening
Although FCA has installed the Hellcat 6.2-liter supercharged V8 in several of its vehicles, it's never been put in a production pickup truck. That's about to change. On its tenth anniversary as a separate brand, a press release confirmed that the Ram Rebel TRX, previously shown as a 2017 concept, is officially reaching production. 2017 …
Although FCA has installed the Hellcat 6.2-liter supercharged V8 in several of its vehicles, it's never been put in a production pickup truck. That's about to change. On its tenth anniversary as a separate brand, a press release confirmed that the Ram Rebel TRX, previously shown as a 2017 concept, is officially reaching production.
2017 Rebel TRX Concept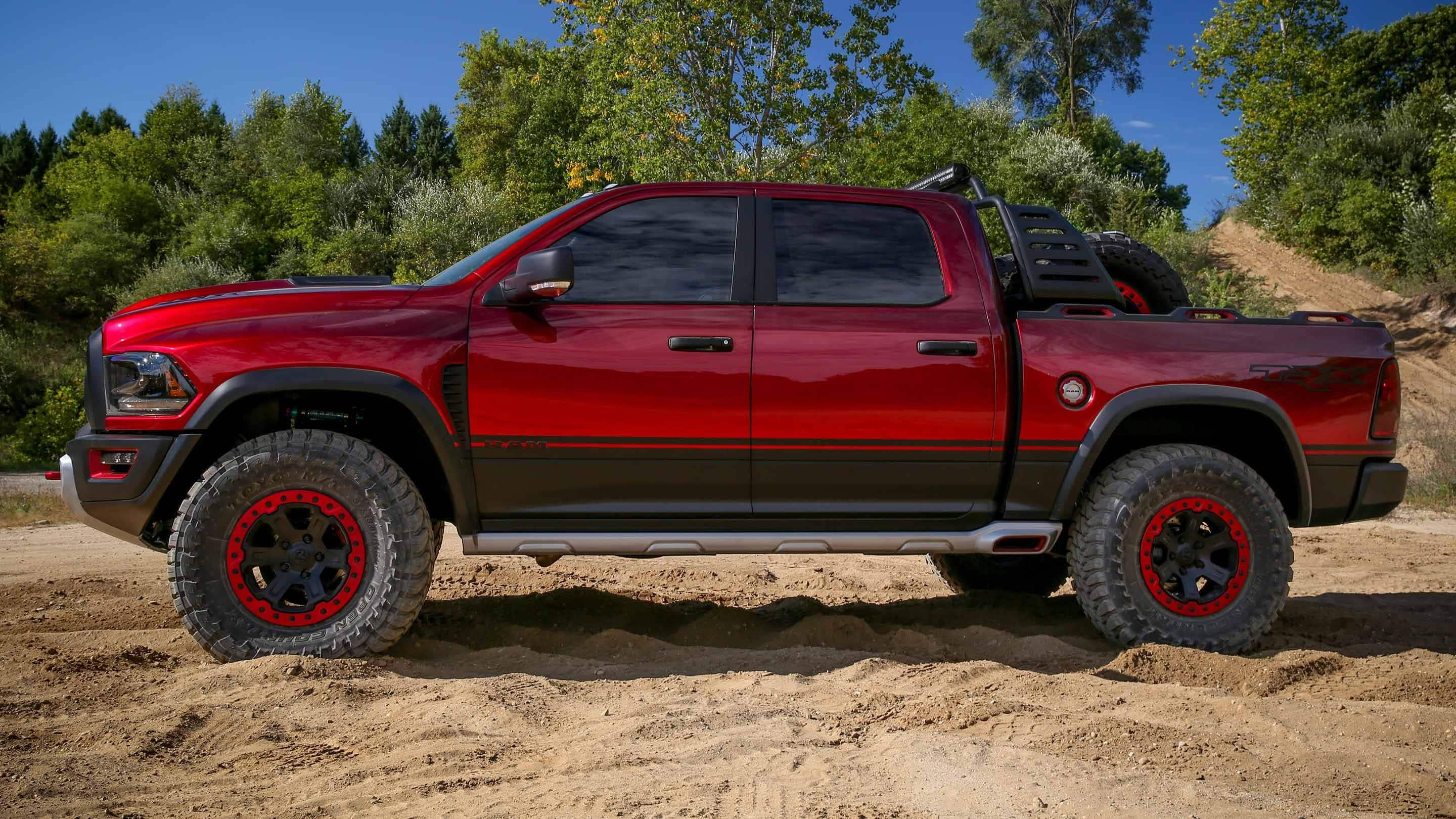 When it debuted at the 2016 Texas State Fair, the Rebel TRX concept was based on the then-new Ram 1500 Rebel. The biggest attraction was the 575 hp Hellcat engine that engineers had somehow squeezed under the hood. Although detuned from the standard 707 hp, the Rebel TRX was—and still is—the most powerful Ram pickup ever made. The detune was necessary to optimize the truck for off-road adventures.
But the modifications didn't begin and end with the engine. Rear suspension travel had been upgraded from 9 inches to 13, in addition to featuring a link coil design normally used for desert racers. Combine that with the four-wheel-drive system (with included Baja mode), six-point racing harnesses and custom Mopar bead-lock wheels mounted with 37-inch tires, and Ram claimed you could hit 100 mph over…well, practically anything.
Conflicting Test Mules
In 2018, AutoWeek reported that the Rebel TRX was confirmed for production, its version of the Hellcat engine mated to an eight-speed automatic. At the time, they speculated that the production TRX would debut as a 2021 model.
Then, in June of this year, Motor1 obtained spy shots of several test mules driving around Michigan's Silver Lake Sand Dunes. A confidential information source—allegedly unconnected to FCA or the company contracted to build and test the mules—later contacted the site with additional details. The source apparently had spent some time with the mules.
Supposedly, a majority of the test mules were equipped with the full-force 707 hp Hellcat engine, linked now to a ten-speed transmission. In addition, the mules came equipped with ARB air lockers at both axles, as well as Bilstein shocks on all four corners. Motor1 went on to allege a 2021 model year.
Car and Driver, which also spotted Rebel TRX test mules, this time in Detroit, reports a 2020 debut.
These details do somewhat conflict with Ram's official press release. Ram only mentioned the concept's 575 hp engine; nothing about the full-power Hellcat engine. No details about the transmission or suspension were provided, either.
Ram also has not revealed a release date at this time. MotorBiscuit recently reported, based on Automotive News information, that the Rebel TRX would be a 2022 model. This does not preclude a 2021 release date, however.
A Full Rebel TRX Line?
In addition, MotorBiscuit has reported on rumors regarding the Rebel TRX's engine. These rumors indicate a 'base' TRX with a 575 hp supercharged V8 may be part of a trim package. Motor1 also reported that one test mule was equipped with the 808-hp Demon engine. All this suggests the possibility of a full TRX line, offering varying levels of engine tune. This may explain the confusion/delay in production, as Ram prepares the lineup.
Regardless of production specifics, it is clear the Ram Rebel TRX is a truck many are buzzing over. Hopefully, Ram will provide more details soon.